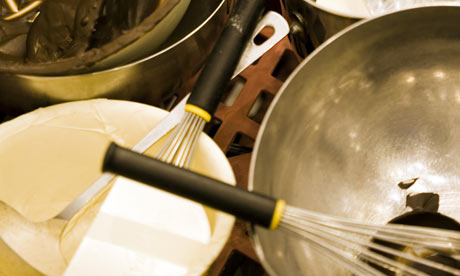 When you move into your first apartment and start your first job it may seem like too much trouble to cook for yourself; however, if you keep your pantry and refrigerator stocked with the right ingredients a quick meal is almost always possible. Here are things that you've got to have on hand to make anything. The current trend of eating out all the time is not only expensive, but also unhealthy. You don't know what's in the food and there's usually way too much of it.
Pots, Pans, and Utensils:

2 skillets (9" and 11")
3 sauce pans small, medium, large
1 dutch oven, medium
1 colander
1 roasting pan, medium size
1 sieve
3 mixing bowls, small to large (get good-looking ones and they can double as serving bowls)
knives--medium chef's knife, paring knife, serrated bread knife
stick blender for pureeing
hand mixer
can opener
bottle opener
potato peeler
box grater
Rasp (I love mine, but it's probably not essential.)
pot holders
dish towels
dish rags--I use Handi wipes because they dry quickly and can be washed and re-used.

Canned & Dried
Canned tomatoes, whole, diced, sauce, paste
Canned chicken stock and beef stock, find the best tasting brand available
Canned beans, black, lentils, red, white (I have to have black eyed peas & baked beans as well).
Again, use the best possible brand. I like Bush Beans or Progreso.
Canned fruits that you like: I keep pineapple, peaches, pears, & apples. You can use them to make a quick fruit crisp or add to some fresh fruit for a salad or dessert.
Rice, white, brown, and arborio for risottos
Pasta, spaghetti, fettuccine, rigatoni, & something little for soups like macaroni
If you like lasagne, buy Barilla's lasagne no cook lasagne noodles
bread crumbs
capers
dijon style mustard
catsup
soy sauce
rice wine vinegar
balsamic vinegar
olive oil, extra virgin
Cornstarch
Flour, small bag unless you like to bake
sugar, small bag unless you like to bake
Baking powder & baking soda if you bake, otherwise don't bother
vanilla (Real) flavoring
Dried Herbs & spices:
dried oregano
dried basil
dried rosemary
dried thyme
bay leaves
salt
pepper corns
dried, flaked chili pepper
ground cumin
chili powder
Fresh veg:
onions, yellow & red
garlic
potatoes
Don't ever refrigerate onions, garlic or potatoes. They will just rot. Also, don't store potatoes and onions together.
carrots
celery
If you like salads: lettuce, fresh tomatoes, and cucumbers
Any other fresh vegetables that you like
Fresh Fruit:
Lemons
Limes
Oranges
Citrus fruit will keep a long time if refrigerated.
Any other fruit you like
Frozen:
greens beans
green peas
corn
spinach
Any other frozen veg you like.
Meats:
Be sure to take the time to freeze things in single or double portions. You don't want to have to defrost 4 chicken breasts to fix yourself 1 for dinner
Ham steak, cut or cube & freeze for soups and sauces or a quick dinner.
chorizo sausage, the dried Spanish style will keep forever and can be used for paella, soups & stews
Polish sausage, freeze it and use for jambalaya, appetizer, or baked with cabbage
Ground beef or turkey
Hot Italian sausage
boneless chicken breasts
boneless pork chops
Dairy:
Parmeseano Reggiano cheese
Any other cheeses you like, most keep a long time
milk (If you don't drink enough to keep fresh, look for ultra-pasteurized or evaporated milk that you can keep on your pantry shelf.
Bread:
Whole wheat sandwich bread if you make sandwiches
French bread (slice & freeze for french toast, croutons, or bread crumbs)